| | |
| --- | --- |
| Basic Eligibility Criteria for HDFC Bank Credit Card | Benefits of HDFC bank Credit Card |
| Age: Minimum 18 years to Max 70 years | Wide Range of Cards |
| CIBIL: 750 and above | Welcome Gift Vouchers |
| Nationality: Indian | Cashback on Every Spent |
| Minimum Salary Required: Rs 1,44,000 and Rs 25,00,000 per annum for both salaried persons and self-employed | Flexible Reward Redemption |
About HDFC Credit Card
Beautiful Possibilities await you, with an HDFC Bank Credit Card. You will be able to make any purchase you want with this card, whether it's buying that gadget of your dreams, booking a flight or hotel, or paying off your exorbitant electricity bill. After all, the best things in life are those that money can't buy!
Credit Card
Features & Benefits of the Best HDFC Credit Cards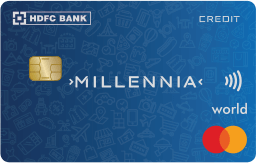 HDFC Millennia Credit Card
5% cashback on Amazon, Flipkart, Flight & Hotel bookings on shopping via PayZapp.
5% cashback on all online spends over Rs. 2,000.
1% cashback on all offline spends and wallet reloads above Rs. 100.
8 free domestic lounge accesses per year.
Rs. 1,000 gift vouchers each on spending Rs. 1 Lakh per quarter in the card's first-year.
Discounts and offers through the Good Food Trail Dining program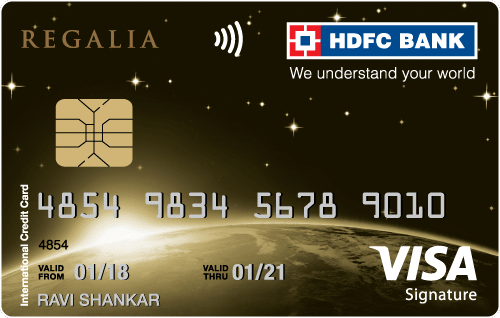 HDFC Regalia Credit Card
Complimentary Priority Pass Membership that provides access to more than 700 airport lounges.
4 Reward Points on every Rs.150 spent.
15% discount at premium restaurants across India.
Up to 15,000 reward points on achieving annual spends of up to Rs.8 lakh.
12 complimentary domestic lounge access per calendar year.
24X7 concierge assistance for travel and entertainment bookings.
Foreign currency mark-up fee of 2% on all international spends.
Free comprehensive insurance that covers air accidental death, emergency hospitalization, and credit liability.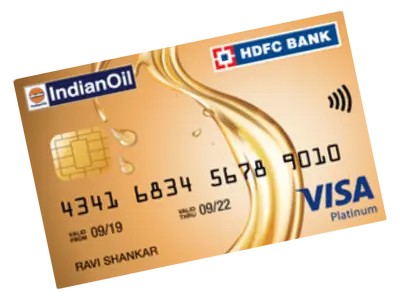 HDFC Indian Oil Credit Card
Get fuel points at IndianOil fuel outlets by earning 5% of your spends.
You can shop at grocery stores and earn fuel 5% as fuel points.
Earn 1 Fuel Point for every Rs.150 spent with this credit card.
You can earn at least 50 liters of free fuel every year.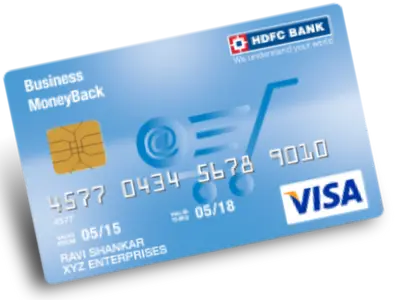 HDFC MoneyBack Credit Card
2X more reward points on online spends.
Spend Rs.50,000 in a quarter and get an e-voucher worth Rs.500.
Free accidental death insurance up to Rs.50 lakhs.
Zero liability on the lost card.
Reward points can be redeemed for cashback against card outstanding, air miles, and gifts from the rewards catalog.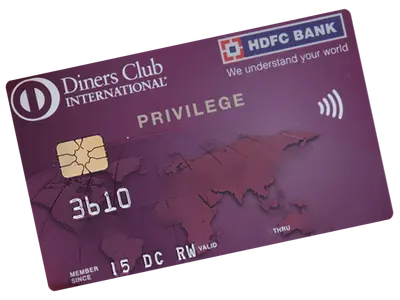 HDFC Diners Club Privilege Credit Card
Complimentary membership to Zomato Gold, Amazon Prime, MakeMyTrip Double Black, Times Prime, and Big Basket Star. These memberships can be availed upon spending Rs. 75,000 or more in the first 90 days.
12 complimentary visits in a year to 700+ airport lounges in India and abroad.
4 reward points per Rs. 150 spent. 2X rewards on dining.
Discounts on spas, salons, gym and doctor consultation
2 complimentary golf games per quarter globally
Spend Rs. 5 Lakh in a year and renew all your complimentary memberships
Spend Rs. 40,000 in a calendar month and get 1 voucher worth Rs. 500 from BookMyShow, TataCLiQ, or Ola Select membership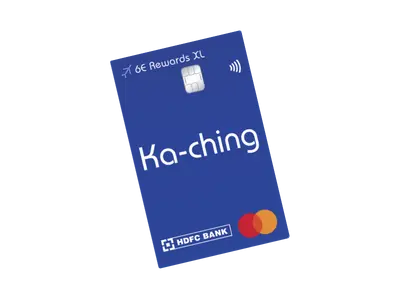 6E Rewards XL IndiGo HDFC Bank Credit Card – For IndiGo Frequent Flyers
5% 6E Rewards per Rs. 100 spent on IndiGo website or mobile app .
3% 6E Rewards per Rs. 100 spent on dining, grocery purchase and entertainment spends
2% 6E Rewards per Rs. 100 for all other retail spends.
1 Complimentary IndiGo air ticket worth Rs.3,000 on making 3 or more transactions in each of the first three months after card set up.
Cardholders will also get 8 complimentary domestic lounge access through Mastercard Lounge Access Program.
The card offers complete waiver of fuel surcharge for transactions above Rs. 400. Maximum waiver per billing cycle has been capped at Rs. 500. .
Users can avail dining discounts under HDFC Bank's Good Food Trail Dining Program.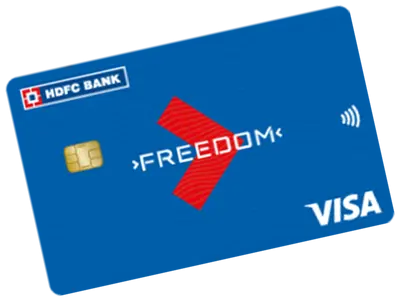 HDFC Freedom Credit Card – For First-Time Users
5 times more reward points on dining, entertainment, railway ticket booking, cab booking, and grocery spends.
10 times more reward points on HDFC PayZapp & SmartBUY spends
25 times more points on birthday spend
Earn 1 reward point on every spend of 150 and above.
A gift voucher worth Rs.1000 on annual spends of Rs.90,000 or more.
Complimentary accidental insurance up to 50 lakh.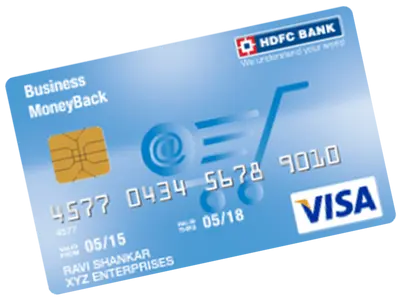 HDFC Business Moneyback Credit Car
2X more reward points on online spends.
Spend Rs.50,000 in a quarter and get e-voucher worth Rs.500.
Free accidental death insurance up to Rs.50 lakhs.
Zero liability on lost card.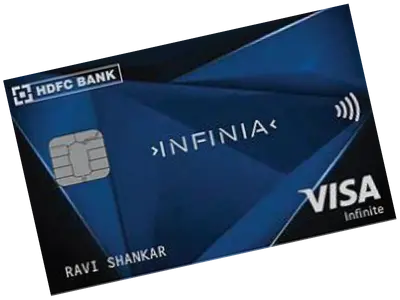 HDFC Infinia Credit Card Metal Edition
Retail spends: 150 = 5 points
Travel & shopping via Smartbuy: 10x points
Dining at stand-alone restaurants: 2x points.
Taj Epicure Plus Plan & Inner Circle Gold membership
Club Vistara Gold membership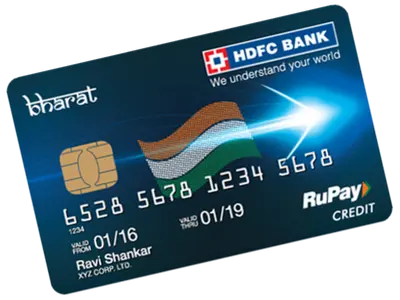 HDFC Bharat Cashback Credit Card
Annual fee is waived off when a cardholder spends Rs. 50,000 or more in a year.
Best suited for cashback
5% cashback on IRCTC rail ticket booking, fuel, groceries, bill payment, mobile recharges, and payments made through PayZapp
Fuel surcharge waive
Easy Documentation, Smoother Process
Required Documents for HDFC Credit Card
Registered rent agreement
Current passport size photograph
Salaried income documents
Self Employed person documents
Salaried income documents
Last 3 months' salary slip

Form 16 of last 2 years

Income Tax Return if any of last 2 Years

Last 3 months' bank statement if the salary directly credited in the bank account

Certificate of employment from current employer
Self Employed person documents
Income tax returns of previous 2 years

Statement of finances with a proper balance sheet with profit and loss in that sheet

Bank statement with continuity of business

GST registration evidence of business
Card to Card Documents
The documents required for a card-to-card application vary, but common documents include:
Government Issued Photo ID

Proof of Residency

Proof of Income

Applcation Form

Authorization to run a Credit Check (if required)
Note : HDFC may ask for additional documents based on the applicant's profile. The above list is for reference purposes only.

Wondering How to Apply? Here You Go!
How to Apply for an HDFC Credit Card
The process of applying for a Credit card can be really daunting sometimes but with ReferLoan you can make the process easy and quick. .
Visit the website of ReferLoan

There you can find the list of credit cards on the top.

Choose an HDFC card and click on the 'Check Eligibility' button

You will be prompted with a list of questions

If you're eligible for the card, you will be redirected to the online application page.

Fill in all the required fields on the page before clicking on 'Submit'.

You will then be asked to upload the documents – do the same and click on 'Submit'
Redeem Your Reward Points and Get Exciting Gifts and Vouchers
How to Redeem an HDFC Credit Card Reward Point?
Login to your Net Banking account

Click on the " Card" tab and register your card as a one-time activity.

Now click on the link called Redeem Reward Points on the left side navigation bar.

Choose your card, click Continue, and then proceed to the online redemption portal.

If you're eligible for the card, you will be redirected to the online application page.

Filter your collected Points Range and preferred Item Category to view the catalog

Choose your item, add it to the cart with the preferred quantity and click View Shopping Cart Link.

To proceed further, please read the Terms & Conditions and click on the check box confirming that you have read them.

You are done now. A copy of your voucher will be received on your registered email ID and Mobile Number
HDFC Credit Card Login For Net Banking
Log in to your net banking with the provided customer ID and IPIN.

On the main menu, select the " Cards" option

Select the " Credit Card" option from the drop-down

Select the " Register Credit Card" option on the left side of the menu

If you're eligible for the card, you will be redirected to the online application page.

Fill in your card details like credit card number, expiry, and pin.

After confirming all the filled-in details are right, click on "Submit"
Points to Consider before Checking Your Loan Application Status
Your credit history

Your CIBIL score

Your age

Your source of income

Your occupation

Any loans that you are yet to repay

Usage of your credit cards or the loans you may have availed previously

Organized submission of documents
Other Products and Services from HDFC
| | |
| --- | --- |
| Savings Account | No matter what your needs are, HDFC Banks has to offer a savings account to every individual in need. With 11 types of saving accounts, HDFC will serve the financial needs of students, entrepreneurs, salaried employees, or senior citizens. Based on people's requirements and financial stability, HDFC offers from Regular to Premium Savings accounts |
| Current Account | Different businesses require different attention. Therefore HDFC offers 18 types of Current Accounts to cater to every need of every business accordingly. With a current account, a business can deal largely with liquid deposits without any limitation on charges. With a Current account, you can also leverage easy withdrawals. |
| Home Loan | Who doesn't want to land their own cozy place, right? For such people, HDFC Bank offers 3 types of loans with attractive interest rates and flexible repayment tenure. Borrowers can also repay directly through their HDFC Bank Savings Account by opting for automated repayments. |
| Personal Loan | Most people have urgent personal needs that require urgent funding. For those, HDFC Bank offers Personal Loans, along with multiple benefits such as attractive interest rates, low processing fees, & simplified documentation. Customers can also avail pre-approved loans in 10 seconds and others can get a loan in 4 hours. |
| Loan Against Property | If you are lacking some funds, your aged old property can surely help you. Yes, with HDFC Bank you can get Loan Against your property. The bank offers 4 types of Loan Against Property which can be used for any personal or business goal. If we talk about a few of the benefits, Customers can get up to 65% of their property's value, attractive interest rates, and hassle-free processing. |
| Car Loan | Riding a swanky car on the road with your family will surely be on your bucket list. With HDFC Car Loan you can fulfill this dream of yours. With upto 100% funding, there are 3 types of car loans as per customer's requirement with 7-year loan tenure, quick disbursal, and processing |
| Education Loan | Getting your child well-educated is the first step. For that HDFC brings you 3 Types of Education loans. These Loans are to help and support students studying across leading institutions in India & overseas to fulfill their career goals & aspirations. HDFC Education Loan will also help the borrower to avail of tax benefits u/s 80 (E) of the Income Tax Act, 1961 |
| Gold Loan | Keeping your gold stacked in your bank locker won't give you any return right? But with HDFC Gold Loan you can get a Loan on your gold without losing it. With a minimum loan amount of Rs. 25,000 to its customers at a flexible interest rate, minimal documentation & secure storage, HDFC offers an Instant Gold Loan. |
| Business Loan | Never let your Business's growth get hampered by a lack of funds. HDFC Business Loan allows you to get a high amount of up to Rs. 50 Lakhs with an affordable interest rate and repayment tenure. |
| Fixed Deposit | A fixed amount of money can always be your savior in times of hardship. With HDFC Fixed Deposit you can lock your assets and get high returns on it. HDFC Fixed Deposits also offers preferential interest rates (0.50% additional) to senior citizens. |
| Recurring Deposit | Want to make regular deposits & earn returns on the investment? HDFC Recurring Deposit is your answer. With HDFC Recurring Deposit, you can invest a minimum deposit as small as Rs. 1,000 or up to Rs. 14.99 per month and with a minimum tenure of 6 months up to a maximum tenure of 10 years |
| Credit Card | Pay wherever you are and whenever you want. Yes, this is possible with HDFC's wide range of credit cards. These Credit cards will offer attractive reward points, exclusive travel benefits, dining privileges, and many more. |
| Debit Card | Want a convenient way to make all your daily life payments? HDFC Debit Cards can help. HDFC Bank offers a wide variety of Debit card that helps cardholders manage their finances in a better way. The Card Holders can also leverage various offers, discounts, and cashback on shopping, traveling, dining, etc |
| Balance Enquiry | No hassle to get your balance updates anymore. With HDFC Bank's Enquiry services, you can easily get all the updates on your Bank Balance through Netbanking, Mobile Banking, Missed Calls, SMS, Passbook, ATM & Customer Care Number |
| Mini Statement | Fetching a little glimpse of your monthly statements can bring you more clarity about your finances. Therefore, HDFC Bank's Mini Statements can give you a preview of your monthly bill. You can access your mini statement through Net Banking, Phone Banking, SMS, Passbook, ATM, and also by contacting the 24X7 customer care number. |
| Net Banking | Want to make your banking experience even more smoother? Just sign in to HDFC Netbanking and you are good to go. Switching to net banking can make your banking life easier than ever before. Any HDFC Bank customer can use Net Banking to check their account balance, book fixed & recurring deposits, transfer funds, download bank statements up to 5 years, etc |
| Customer Care | Finding yourself stuck in the middle of your banking journey? Worry not! HDFC Bank's dedicated customer care is always there to guide you with the right guidance. Any customer can reach out to the bank's customer care executives via SMS, E-mails, 24×7 available customer care number in case of any queries, account-related questions, feedback, etc |
Check your HDFC Credit Card Application Status Online Step by step
If you want to check your HDFC Credit Card Application Status online, you will have to follow the below-mentioned steps:
Visit the official HDFC Bank website

On the top navigation menu click on the "Products" tab

Select "Cards" from the dropdown list

Click on the "Credit Cards" option

Select "Track Your Credit Card" from the submenu.

Enter your Application Form Number or Reference Number On the "Track Your Credit Card" page and click on the "Submit" button.

In case you have forgotten your Application Form Number or Reference Number, you can also enter your mobile number or date of birth to retrieve it

Your HDFC Credit Card Application Status will be displayed on the screen
We are here to help you.
In Case of Any Query
HDFC Bank Ltd. Empire Plaza I, 1st Floor, LBS Marg, Chandan Nagar, Vikhroli West, Mumbai - 400 083
FREQUENTLY ASKED QUESTIONS
HDFC Bank offers a variety of credit cards to suit the demands of its customers. There are cards for various spending patterns, such as shopping, travel, lifestyle, dining, and so on, and they are also classified according to their income bracket. You should choose a credit card that fits your needs.

There are options available on the HDFC bank net banking website to raise a credit card cancellation request. However, you can do the same by calling HDFC customer care or visiting any nearest HDFC Branch if you wish to submit an online request, login into the HDFC online net banking website and click on the "credit card hotlist" option to block to hotlist your HDFC bank credit card. You will get a form to fill out for the HDFC bank credit card cancellation. Just fill out and submit that form. Once that gets approved, you will get a call from the HDFC bank executive checking with you for a reason for cancellation, and they will go ahead and process the same.

If you wish to increase the credit limit of your HDFC Bank credit card online, follow these steps. Login into the HDFC bank online net banking website with your customer ID. Go to the Cards tab, click "request," and click "set usage/limit" your existing Domestic and International Card usage will be shown here. The "Online" option would be disabled there by default, so you need first to switch it ON, then click on Continue. Then comes the review page; enter the requested OTP here and click "Continue," and it's done.

You can also check your HDFC credit card statement on the official GDFC bank website and the HDFC mobile banking application. For both options, login into them, go to the "Cards" section, select the "Enquire" option, and select the timeframe for which you need the card statement. And the information will be downloaded on your phone or system.
Your credit card bill can be paid online using the HDFC Mobile Banking app or the HDFC Net banking webpage.

If you wish to change your address for your HDFC credit card online, go to the bank's net banking website with your Customer ID and password. Click on "Contact details update," then click on "update address" and click on "Continue." Here it is mandatory to attach one address proof document, and once you upload and submit, the new address will be changed as per the document attached within 24-48 hours.
If you wish to change your HDFC credit card online, follow these steps. Login into the HDFC net banking website with your Customer ID. Go to the "Cards" section, select your "credit card," and then Go to the "Change PIN" option. Enter the requested OTP on your mobile number to confirm your action online. After that, you can verify your new 4-digit PIN as your choice.
HDFC Regalia Credit Card, HDFC Diners Club Miles Credit Card, and HDFC Regalia First Credit Card are the best travel credit cards. HDFC Travel Credit Cards provide exclusive travel benefits such as a complimentary airport lounge, rewards on travel bookings, air miles conversion, and more.
The interest rate on your HDFC Bank credit card will depend on which card you choose. The rates range up to 3.4% per month, but the rate may be adjusted based on your spending habits.

HDFC Bank MoneyBack Credit Card and HDFC Freedom Credit Card are the two highly recommended HDFC Credit Cards if you are someone who loves to shop
The HDFC Millennia Credit Card offers up to 5% cashback on online purchases, making it the perfect choice for millennials who love to shop online.
The joining fee for HDFC Credit Card starts from Rs. 500 and goes up based on the Credit Card you are choosing to apply.
The annual fee for HDFC Credit Card starts from Rs. 199 and goes up based on the Credit Card you are choosing to apply for.
The average age requirement for an applicant for all types of cards should be a minimum of 18 years old and a maximum of 70.
If you are a part-time student with a steady source of income, a Savings Bank Account, and no outstanding loans, you can opt for any of the HDFC Bank Credit Cards.

No, if you are a student with no income, you can not get an HDFC Credit Card. Although you can get an Add-On credit card with the support of your parent's credit card.
On average, the minimum income requirement to apply for HDFC Credit Card is between Rs 1,44,000 and Rs 25,00,000 per annum for both salaried persons and self-employed.
Yes, you can apply for an HDFC Credit Card with a min. Salary of Rs. 15000.
If you are a low-salaried individual, HDFC Bharat CashBack Card and HDFC Freedom Credit Card will be ideal for you as it requires an annual fee of Rs. 500 only.
With HDFC Regalia Credit Card the Applicant gets 4 reward points every time they spend Rs. 150.
No, with a CIBIL score of 500, there is a high chance of your application rejection.
The minimum cibil score required to apply for an HDFC Credit Card is 750 or above.

Most credit cards charge an annual fee, but these fees are waived if you spend a certain amount in the first few months after getting your card. For example, HDFC Bank's Visa Signature Card will waive its annual fee if you spend Rs 15,000 within 90 days of getting your card.
The annual fee for an HDFC Regalia Credit Card is Rs. 1000
The HDFC Bank Money-Back Credit Card falls under the category of a cashback credit card.

With HDFC Bank Diners Club Black Credit Card, the applicant will get 10,000 points on paying the joining fee.
The Joining Fee for HDFC Bank Diners Club Black Credit Card is Rs. 10,000.

In case you suspect credit card fraud, just notify your bank, and your credit card will be instantly blocked.
You can improve your credit score with HDFC Credit Card by timely and complete payment of bills and keeping credit utilization under 30%.
The Renewal Fees on HDFC Bank Moneyback Credit Card is Rs.500 (from 2nd year onwards).
To reach out to HDFC Bank Customer Care, you can contact 1860 267 6161
No, To be eligible for any of HDFC's credit cards, you must have a minimum CIBIL score of 750 or above.
Yes, any salaried job individual can easily apply for an HDFC Credit Card
A lifetime free credit card in HDFC bank includes a no-joining fee and Annual Fee
Log in to your HDFC net banking account with your registered id and password. Select the credit card option > change PIN. Now an OTP will be sent to your registered mobile number, submit the OTP and you can enter your new PIN. Apart from this, you can also generate your PIN through the nearest ATM and IVR calls.

Visit Mycards.hdfcbank.com log in through OTP and link your credit card. You can also click on the "Card Control" tab to enable Online, Contactless, and/or International transactions. Apart from this, there are a few other ways through which you can activate your HDFC Credit Card such as WhatsApp Banking and Using your Credit Card for at least 1 Online and POS transaction.

If your HDFC Credit Card is not activated within 37 days of being handed over to you your Credit Card will be closed and cannot be used further as per the regulations.

Yes, your Add-on card will require a separate PIN.
In case of any theft or loss, you should block your credit card immediately by contacting the HDFC customer care.
You can apply for an HDFC Credit card by visiting the official website of HDFC Bank or you can also apply from any thief party platform such as ReferLoan.
Your HDFC Bank Chip Credit card can be used for purchases and cash withdrawals at millions of locations worldwide wherever Visa/MasterCard are accepted.
Yes, you can access your credit card details using the Credit Cards Portal (under Login) and utilize our range of services like Cash and credit limits, billed and unbilled transactions, due dates, and reward points.
Visit the HDFC Contact us page, and click on 'Grievance Redressal Officer'. On the subsequent page, choose 'Email Us', here you can fill out a form with your complaint and send it to the officers.
To apply for an HDFC Regalia credit card the monthly income of the applicant should be greater than ₹1.2 lakhs
Yes, HDFC Regalia credit cardholders can withdraw cash at an advance fee of 2.5% of the total withdrawal amount.
Yes, once you submit your joining fees you will get 1,000 reward points as welcome and renewal gift
The general documents that you will need to apply for an HDFC Credit Card are Proof of identities such as PAN, Aadhar, Driving License, Passport, Proof of address, and Proof of Income.