Recent Search and Popular Product

Business Loan

Personal Loan

Home Loan

Education Loan

Car Loan

Credit Card

Loan Against Security

Loan Against Property

Credit Card
Your Access to Financial Freedom!
YES Bank offers a wide range of credit cards to suit various needs, including those related to shopping, travel, rewards, cashback, lounge access, and more. Both low annual fee credit cards with minimal perks and premium cards with exceptional privileges are available. Continue reading to learn more about YES Bank Credit Cards in-depth, including their features, and fees.
Credit Card
Making Your Path to Your Credit Card Smoother!

Visit Our Website
For the first step, you will have to visit our website to explore the options that fit your needs.
Select and Apply
Once you shortlist the credit card you have been looking for, apply for it, and proceed with the further process.
Submit Your Document
One of the most important steps. Now you will have to submit all the required documents digitally.
Enjoy Your Credit Card!
Once your application gets approved based on your eligibility, you will be having your Credit Card in hand.
Credit Card
Features & Benefits of the Best Yes Credit Cards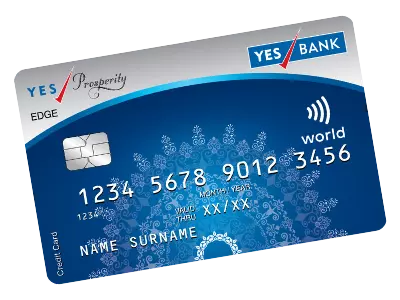 YES Bank Prosperity Edge Credit Card
Get rewarded faster with Accelerated Reward Points on select transactions.
15,000 bonus reward points on reaching INR 6 lakhs worth of spend in each anniversary year.
A dedicated website is provided for booking flight/hotel/movie tickets with an exclusive catalog of products.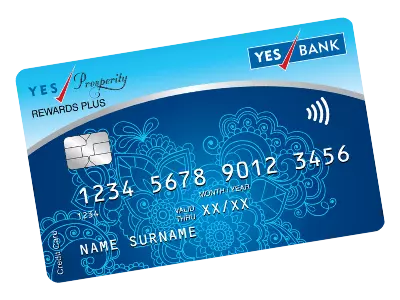 YES Bank Prosperity Rewards Plus Credit Card
YES Bank Prosperity Rewards Plus Credit Card
Get 12,000 bonus reward points every year when you spend INR 3.6 lakh or more.
Enjoy a fuel surcharge waiver at all fuel stations across the country.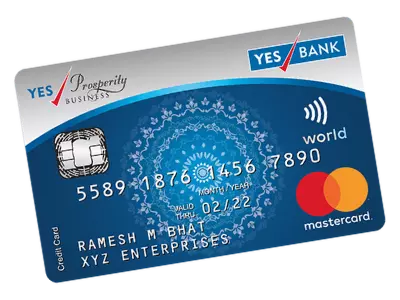 YES Bank Prosperity Credit Card
Get rewarded faster with Accelerated Reward Points on select transactions.
Earn up to 10,000 bonus reward points when you spend INR 1.8 lakhs or more each anniversary year
Enjoy a fuel surcharge waiver at all fuel stations across the country.
Always Be Prepared with the Right Document
Required Documents for YES Credit Card
Registered rent agreement
Current passport size photograph
Salaried income documents
Self Employed person documents
Salaried income documents
Last 3 months' salary slip

Form 16 of last 2 years

Income Tax Return if any of last 2 Years

Last 3 months' bank statement if the salary directly credited in the bank account

Certificate of employment from current employer
Self Employed person documents
Income tax returns of previous 2 years

Statement of finances with a proper balance sheet with profit and loss in that sheet

Bank statement with continuity of business

GST registration evidence of business
Card to Card Documents
Government Issued Photo ID

Proof of Residency

Proof of Income

Applcation Form

Authorization to run a Credit Check (if required)
Eligibility
Minimum of 21 years of age and maximum of 60 years.

Salaried or self-employed individuals with a steady source of income.

Minimum monthly income of INR 40 thousands (can be more for YES Prosperity Edge Credit Cards).
Note : YES may ask for additional documents based on the applicant's profile. The above list is for reference purposes only.
Wondering How to Apply? Here You Go!
How to Apply for an YES Credit Card
The process of applying for a Credit card can be really daunting sometimes but with ReferLoan you can make the process easy and quick. .
Visit the website of ReferLoan

There you can find the list of credit cards on the top.

Choose an YES BANK card and click on the 'Check Eligibility' button

You will be prompted with a list of questions

If you're eligible for the card, you will be redirected to the online application page.

Fill in all the required fields on the page before clicking on 'Submit'.

You will then be asked to upload the documents – do the same and click on 'Submit'
Redeem Your Reward Points and Get Exciting Gifts and Vouchers
How to Redeem an YES BANK Credit Card Reward Point?
Log in using your registered number and select your credit card category

Select the products and add them to the cart

Proceed with the checkout and enter the required credit card details

Click on the Redeem button

The cardholder will receive their redemption confirmation on their registered mail ID and contact number
Qualification and Necessary documentation
Anyone with an ideal credit score (generally above 750) is eligible for credit cards from Yes Bank. Aside from a good credit score, the following are a few standard eligibility specifications:
Age: - In order to qualify for YES Bank credit cards, individuals should be between the ages of 21 and 60.

Employment Type: - YES Bank credit cards are available to both salaried as well as self-employed people.

For applying for a YES Bank credit card, some documents are necessary.

A completed form of application for YES Bank credit cards.

Prospective applicants must provide identity proof, residential proof, and proof of salary.
YES Bank Credit Card EMI Facilities
The lowest transaction sum accessible within the particulars of this feature is Rs. 2,500.

It is not necessary to provide any kind of documentation.

The rates of interest range from 12 to 15 percent per year.

Whenever the EMI requests get submitted, the person using the card may choose the loan's term from the options that are offered, which are 3, 6, 9, 12, 18, as well as 24 months.

The loan duration selected by the person who uses the card is noted on the billing slip.

After being selected, the choice cannot be altered or changed at a later time.

When converting EMI payments, customers obtain reward points.

YES Bank doesn't assess any processing costs for 'Instant EMI'. As for processing costs, the 'EMI on Call' option charges 2% of the payment's value.
Access Your Credit Card Anywhere Through NetBanking
YES Bank Credit Card Login for Net Banking
In the NetBanking section, select "Retail" and click on "Login"

Click on the link "Register Online/First Time Users"

Enter your Customer ID, Debit Card Number & ATM PIN

Create your NetBanking Password

Click on "Register Online
Fees and Charges
YES Bank credit card charges
Fee Type
Amount
Joining/Annual Fee
Varies from one card to Another
Finance Charges

For YES FIRST Preferred/YES FIRST Exclusive/YES Private Card:
1.99% p.m. (23.88% p.a.)*
For all other credit cards: 3.50% p.m. (42% p.a.)

Late Payment Fee

Less than Rs.101 - Nil
Rs.101 to Rs.500 - Rs.150
Rs.501 to Rs.5,000 - Rs.500
Rs.5001 to Rs.20,000 - Rs.700
Rs.20,001 and above - Rs.1000
How to Activate YES Bank Credit Card
How to Activate YES Bank Credit Card via Netbanking:
Customers must have YES Bank Net Banking credentials to generate PIN through Net Banking

Login to your YES Bank Net banking account

Select 'Credit Cards'

Click on Register credit card and provide the necessary details

Now select Set/Reset PIN.

Provide a 4-digit PIN of choice. Then Click on 'Submit' again

Enter the OTP to complete the activation

An OTP will be sent to the registered mobile number
How to Activate YES Bank Credit Card via Mobile App
To activate credit card through mobile app, follow the instructions given below:

Download the YES Bank app from Play Store or Apple Store

Login using User ID and password, Customer info, or Debit Card and PIN

Set Application PIN and create MPIN (used to authorize Financial Transactions)

Login using User ID and password, Customer info, or Debit Card and PIN

Now Login to the app

Select Account Services and then select Set/Reset PIN

Follow the instructions to generate PIN
How to Activate YES Bank Credit Card via Customer Care
Customers can get in touch with Yes Bank customer care cell by calling on the toll free number 1800 1200
Yes Bank Credit Card Approval Process
The approval process for a Yes Bank credit card typically involves the following steps:
Check eligibility: The first step is to check if you meet the eligibility criteria set by the bank. This usually includes factors such as age, income, credit score, employment status, etc.

Submit application: Once you have checked your eligibility, you can submit an application for a credit card through the bank's website or by visiting a branch in person. You will need to provide details such as your personal information, contact details, employment details, income details, etc.

Verification: After you submit your application, the bank will verify the information you have provided. This may involve a background check, checking your credit score, and verifying your income and employment details.

Approval: If your application is approved, the bank will inform you and issue you a credit card. The approval process usually takes a few days to a few weeks, depending on the bank's internal processes and the completeness of the information you have provided.

Activation: Once you receive your credit card, you will need to activate it by following the instructions provided by the bank. You will typically need to call a phone number or visit the bank's website to activate your card.
YES BANK
In Case of Any Query
FREQUENTLY ASKED QUESTIONS